DodgeBow Annapolis is taking millersville, annapolis, severna park and surrounding area by storm! it's the most fun indoor activity you can do in anne arundel county!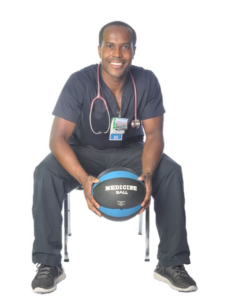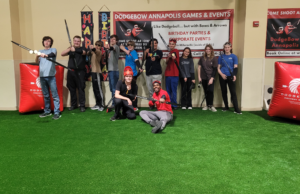 The American Dream
My name is Louben Repke, and I am the owner of DodgeBow Annapolis. I'm living the American Dream! I am originally from Haiti but moved to the USA when I was 10 years old. I didn't speak any English until I arrived here. So, Haitian Kreyol and French are my first two languages before starting to learn English. I attended Old Mill Middle North, where I had my first taste of the American school system (which was quite a shocker, haha). For high school, I graduated from Broadneck in 2008. After graduation, I became a personal trainer and worked as a therapist tech at Cypress Creek Therapy, which inspired me to start my own personal training business. I have a passion for helping people and decided to enhance my skills by becoming a Registered Nurse. I graduated from AACC's Nursing program and officially opened my brick-and-mortar personal training facility, Repke Fitness, in Millersville, MD, in 2014.
Repke Fitness is still up and running, with three full-time employees. We specialize in training clients with injuries and medical conditions to help them get in shape. So, if you're looking to get fit, we can assist you too!
As a nurse, I currently work at Baltimore Washington Medical Center in the Surgery Center (PRN). However, DodgeBow Annapolis is currently my primary focus. I absolutely LOVE being an entrepreneur and growing a business.
How did I get started with DodgeBow?
Like you, I had never heard of DodgeBow. In 2022, for my brother's birthday, I wanted to organize a fun group activity. My brother, who is in the military, had just returned from being at sea for three months, and I wanted to do something special for his February birthday. However, since it's a cold month, it's challenging to find unique group activities. We used to play paintball when we were younger, and that's what I would have loved to do. Unfortunately, no one else wanted to play in 20-degree weather (and I don't blame them). One of my friends came across something called "DodgeBow." I had never heard of it before 2022, so I went online, watched some videos, and thought it looked interesting, but I didn't have any specific expectations.
I gathered a group of 18 friends to try out DodgeBow, not knowing exactly what to expect but figuring it would be more enjoyable than laser tag (which, in my opinion, is boring for adults – you can't run, and it gets old quickly). We had already tried axe throwing, and it was just okay. So, we went to play DodgeBow, and we ALL had a blast! For weeks, my friends and I couldn't stop talking about how much fun it was. It was truly exhilarating! I played again, then a third time, and eventually a fourth time. I was addicted, and my friends loved it too! I briefly considered opening my own DodgeBow business, but the timing wasn't right at that moment. So, I kind of put the idea aside and focused on running my fitness business and doing nursing PRN.
I received an email!
Opportunity Builder's Inc. (OBI) reached out to me via email, saying they had empty space and asking if I wouldn't mind coming to look at it and see if I knew any business owners who could rent the space from them. After examining the space, I provided them with a bunch of ideas regarding who could utilize the space and what they could do with it. On my drive home that evening, it dawned on me that the space would be perfect for DodgeBow! It's close to where I live in Crownsville and also near my other business, located in Millersville off of Veterans Highway. It fulfilled most of the criteria if I were to open another business. I called OBI on my drive home and informed them that I would take the space and start my own business called DODGEBOW ANNAPOLIS! This idea came to me in August 2022, and while I had initially planned on opening in January 2023, everything fell into place, and with everyone being home for Christmas, I decided to open my doors early, on December 22nd, 2022 🙂
Since then, I've been having a blast running DodgeBow! I'm having so much fun with it that I'm confident any group who experiences it will have a great time too. In fact, I'm so confident that you'll love DodgeBow that I offer a 200% refund for any groups who don't have a good time. Thank you for trying out this super fun new venture. Please feel free to reach out to me with any questions, concerns, tips, or feedback. Contact me at [email protected] or 443-214-3545
DodgeBow Annapolis – "Where dodgeball meets archery – DodgeBow!" THE MOST FUN YOU CAN HAVE IN 1 HOUR!